It happens all the time. You just got another manicure… and chose the same or similar color. Now that summer is finally under way, it's time to try something different! Although spring is technically over and summer is well under way, nail polish colors, such as Cake Pop (not just a delicious treat), lime green, vivid neon yellow, cobalt blue and natural shades are just some of the best nail polishes summer 2017.
So, if you are anxiously trying to pick out a nail polish while waiting for your turn at your favorite salon, allow us to help ease some of your anxiety by not only showing you the hottest nail polish colors of the season, but also how to select the best nail polishes for you.
What You Should Know Before Your Next Salon Appointment
The color of your nail polish speaks volumes about your personality, mood, and even your outfit. Therefore, you want to ensure that you select the best nail polish color that not only gives your mani or pedi the extra "oomph" you're looking for, but that also looks good on you.
With the vast number of nail polish brands, colors, and shades out there, making this decision can be overwhelming. Although you could select your nail polish color by using Snapchat, you want to make sure you pick a color that is not only super hot, but that also complements you.
Of course, in the spring we see a line of pretty pastels, and summer is always a great time for hot, bright, neon colors. However, the best nail polish for you depends on a lot more than the look you are going for.
The top four things to consider before selecting your next nail polish color are the following:
Your skin tone

Your outfit

Your mood

The occasion
Skin Tone
Many sources say that one of the most important things you should consider when choosing the right nail polish color is your very own skin tone. For example, fair and medium skin tones look awesome with darker shades, such as deep reds, dark blues, or even black. If you have naturally darker skin or if your skin has become bronze from the sun, then consider a lighter color, such as a white, nude, light pink or peach.
Your Outfit & Occasion
Some experts say that your nail polish should never match your outfit or your makeup to avoid being too "matchy matchy", whereas others will tell you it's fine. Although there are mixed opinions, you can't go wrong with selecting a complementary nail polish color as best practice, especially if you are attending a formal event, such as a wedding or job interview. Heading out on vacation? Then all bets are off… Get as wild as you'd like!
Your Mood
If you tend to select your nail polish shades based on your mood, then you likely know the feeling of choosing black and then instantly regretting it the next day. If this has happened to you, rather than choosing the most dramatic color you see or think of on that particular day, try to pick at least three colors that appeal to you based on your mood. If you are presented with a few different colors, then you are less likely to impulsively select a color based on your mood. There is also a line of mood-changing nail polish colors that change based on body temperature.
Regardless of whether you are dressing up for a formal event, or letting your hair down for vacation, here is our list of the top 10 hottest nail polishes for spring and summer 2017.
Best Nail Polishes for Spring & Summer 2017
1. The Bee Side – Although yellow might seem like an odd nail polish color, this pretty pastel truly works, helping the skin to illuminate and bring out that "sunny" side of the season. In fact, this shade was so popular this spring that is sold out!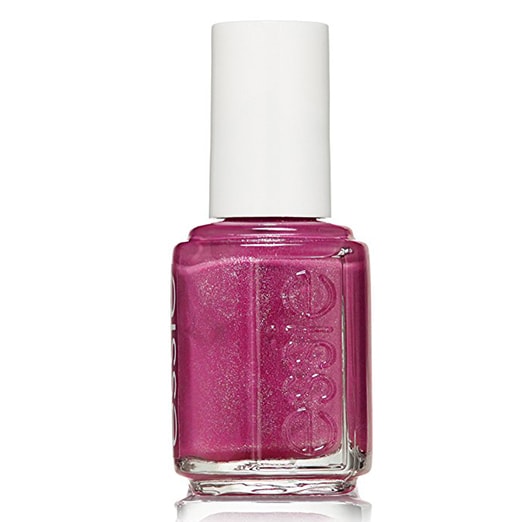 2. Juicy Magenta – Red or pink? Pink or red? It's always a tough decision. However, Essie makes the decision easy with "Juicy Magenta". This shade is the perfect blend between pink and red. Nothing screams passion more than a bright pink and luscious red combined!
3. Garden – Another favorite item by Essie, this pretty peach makes the top of the list. This shade also has a hint of coral, making it a supreme choice for this summer. One of the benefits to using nail polishes by the Essie brand is that Essie's products are formaldehyde-free, making their products a safer and more natural choice.
4. Yellow Polka Dot Bikini – Neon colors are in this summer. This funky and fun color by China Glaze is not only eye-catching, but it works for all skin tones. Nail polishes by China Glaze are long-lasting and do not chip as easily as some other brands. "Yellow Polka Dot Bikini" is also the perfect color for a weekend away at the beach or hanging out poolside.
5. Soothing Sapphire – Who doesn't love a deep, shimmering cobalt blue? This shade of blue has topped the list of hottest nail polish shades for the past several seasons, and it makes a reappearance this year.
Additionally, Sally Hansen's "Color Therapy" nail polish line provides a brilliant shade of color as well as key ingredients for optimal nail care. With Sally Hansen, you get the best of both worlds: beautiful color and a quality product.
6. New Orleans Collection – Of course, our list wouldn't be complete without including a little number from OPI. This vibrant, electric green is not only a huge favorite, but it also won the Sunday Times Style Beauty Awards in 2015.
Wearing a brilliant green shade doesn't have to wait until the holidays; it works for the spring and summer seasons, too!
7. Snow White – We know, we know, the last thing we all want to think about in the spring and summer is snow, but this shade brought to us by Zoya is definitely worth the shout-out. This pure white creme is bright and clean, making it the perfect shade for nails as well as the perfect white for a French manicure tip—a great choice for darker skin tones!
8. Cake Pop – This nail polish shade looks as sweet as it sounds. This "pretty in pink" color is a great option for those who want to keep it simple, natural, and classy. The best part? This fun nail polish color by CND Shellac is known for its long-lasting properties, so you won't be trying to hide your chipped toenails in the sand with this color!
9. Orange Punch – Nothing says "hot summer" than a bright, neon reddish-orange. Feel the burn with this one! "Orange Punch" by Orly is a vibrant and intense color with a subtle sparkling glow and glimmer finish. You will certainly feel the burn with this shade!
10. Delicious Red – Last but certainly not least, "Delicious Red" by Revlon. After all, a list of the top ten hottest nail polishes wouldn't be complete without a red. And what's a hot summer without a deep, "delicious" red? This product is long-lasting, providing up to eleven days of gel-like shine. Because does red ever go out of style?
Finding a Nail Polish Color That "Nails" It
All in all, finding the best nail polish color that fits you best really comes down to style, preferences, taste and even a little trial and error. You could "follow all the rules" in terms of outfit, occasion, mood and skin tone, select a color, and then dislike it the next day. However, choosing your next nail polish color will be easier with a little guidance, so we hope this list of the top ten best nail polishes for spring and summer 2017 has helped narrow down your choices for your next mani or pedi!
Do you have a favorite nail polish color that you fell in love with this season? If so, we'd love to hear about it! Feel free to post your thoughts in the comment box below, and don't forget to share this article!
This article was a collaboration edition with nail artists- Cali and Alli
You can find more of Cali here:
And here are Alli's:
More Related Resources: