Nail salon designs can be tricky at home. Even with tools, a shaky hand can ruin nail art. Luckily, salons offer stylish nail art designs, from chic to colorful, saving you from DIY disasters.
Say goodbye to boring nails and hello to fabulous salon designs! These salon designs are a great solution if you're tired of using the same old nail colors or patterns over and over again.

Top Nail Salon Designs
If the warm or cold weather is getting into your head a little too much and want something to brighten your day, now is the good time to head to your nearest salon and switch your chipped nails for a worthwhile manicure.
If you're running out of nail design ideas this time around, you can request these cool designs and embellishments.
1. Shine on with "Mirror, Mirror" Design
Unlike the usual nail art that's all about flashy designs, the "Mirror, Mirror" trend, brought to you by the Mirror nail polish brand, is all about the metallic sheen.
Just start with a transparent polish base coat, and then layer up with two coats of reflective silver topcoat. Simple, right? And voila, you've got a silver glow that's worthy of a medal stand.
2. Rock Any Occasion with "Radiant Opal" Design
Remember when the opal hair trend kept us mesmerized back in 2015?
Well, get ready for its comeback – but this time, on your nails.
Opal polishes are on the rise, promising a glitz-filled pale shade or a shiny, pearl-like top coat that will make your nails look fit for any elegant event.
3. Get Classy with "Nude-But-Better" Design
Nude nails, anyone? If you're a fan of nude nail salon designs and yearn for that even, polished look, here's some good news: Nude nails are making a grand comeback.
So, get ready to flaunt that classy, understated elegance.
4. Bring Out the Bold with "Ballerina" or "Coffin" Nails Design
If you're into cool nail designs with a bold edge, the Ballerina or Coffin nails design could be your next big thing.
With their long shape paired with a flat tip, these nails are not just wearable, but also a stylish statement. So, why not go bold and edgy?
5. Embrace Beauty and Simplicity with "Oval Nails" Design
For those who find stiletto and ballerina nails a bit too much, here's something that's chic and comfortable: Oval nails.
They've been a hit on fashion runways recently and are all set to explode in salons. Plus, they're easy to maintain, and won't give you a hard time when you want to change your look.
6. Go Green with "Deep Greens" Design
Get ready to flaunt some deep forest greens and kale colors. Don't hold back from wearing this shade beyond the winter season. It's chic and exceptional, regardless of the season.
7. Be Fearless With "Spray-On Nail Polish" Design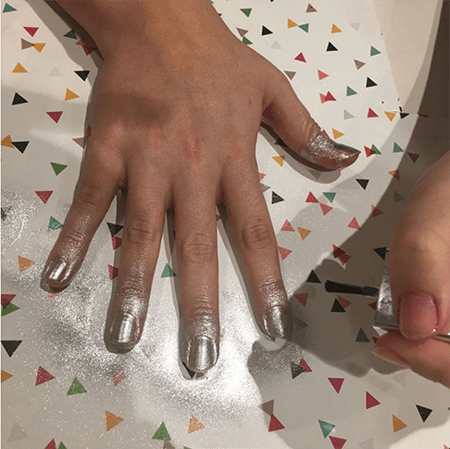 The "Spray-On Nail Polish" design might seem like a cool concept at first, but does it have what it takes to make it big? Some fashion experts believe so.
Its simplicity and the unique application process could be just the things to spark interest among nail enthusiasts.
8. Keep It Simple with "Minimalist With A Twist" Design
If you're into minimalist nails but want to add a little oomph, the "Minimalist With A Twist" design is the perfect choice.
Playing around with negative space within your manicure can create cool designs without going overboard. Keep an eye out for abstract and geometric patterns – they're going to be a big hit this year!
9. Indulge in Monochrome Magic: "Classic Black and White" Design
Let's start with the basics, the "Classic Black and White" design. This one is like the little black dress of the nail world – it never goes out of style!
Black and white can be classy, edgy, or even punk rock, depending on how you rock it. Stripes, polka dots, or abstract designs; the possibilities are endless. And the best part? It matches pretty much any outfit!
10. Blossom with Beauty: The "Dainty Flower Nail Art" Design
Flower designs are the perfect way to celebrate spring. Bright flowers make a statement, while more subdued shades create a softer, romantic look.
Whether you opt for daisies, roses, or abstract floral patterns, your nails will be blooming with style.
11. Go for Gold: The "Luxurious Rose Gold" Design
Now, let's add some bling to our list with the "Luxurious Rose Gold" design. This is a bit more glamorous, perfect for a night out or a special occasion.
The warm, pinkish hue of rose gold is flattering on just about any skin tone and it gives off a classy, luxurious vibe. You can go all rose gold, mix it with other metallics, or even use it as an accent color. It will definitely turn heads!
12. Cool Down with the "Chic Light Blue" Design
Moving on to something a bit more cool and casual, we have the "Chic Light Blue" design. This is a great go-to color for those who w ant something a bit softer and more subtle. It's perfect for a weekend brunch or a day at the beach.
Plus, light blue is associated with calmness and tranquility – something we could all use a bit more of, right?
13. Fuel Your Passion: The "Bold Red" Design
Bold red is not just a color; it's an attitude. It's the perfect choice for anyone looking to make a statement or break out of their comfort zone.
Whether you're a seasoned nail technician or a nail enthusiast, Bold Red is a must-have in your arsenal.
14. Pink Perfection: The "Pink Ombre" Nail Design
Let's keep the lovey-dovey vibes going with the "Pink Ombre" nail design. This design is a fun twist on the traditional French manicure, with a gradient effect from light pink to deeper pink.
It's feminine, playful, and super trendy right now. Plus, it's easier to achieve than you might think.
All you need is a sponge and a couple of different shades of pink. Voila! You're a nail art pro.
15. Classics Never Die: The "Elegant Almond Delights" Design
This one is a bit more sophisticated, perfect for those who prefer a more classic look.
The almond shape is flattering on just about any hand, and it's versatile enough for both casual and formal occasions. Plus, you can play around with different colors and designs to make it uniquely yours.
16. Dazzle with the "Shining Shimmering Glitter" Nail Art
The key to a fantastic glitter nail art is balance. You don't want your nails looking like they've been attacked by a disco ball, right? Mix it up with solid colors and play around with gradients to keep it classy.
17. Spooktacular Style: The "Cute Halloween" Nail Art
Of course, we'll include your go-to nails for Halloween!
Who says skulls can't be cute? With a bit of practice, you can create a skull and crossbones design that's more adorable than eerie. Start with a black base and use a thin brush or a dotting tool to draw your design.
18. Classic Charm: The "Red And White Polka" Nail Art
Polka dots are a classic, and they never go out of style. Plus, they are ridiculously easy to create. All you need is a dotting tool, and you're good to go!
Red and white are a striking combination, but feel free to get creative with your color choices. Want to give it a modern twist? Try combining different shades of the same color. The possibilities here are endless.
19. Festive Fingertips: The "The Happy Holiday" Nail Design
Last but not least, let's get festive with some holiday nail designs. Whether it's Christmas, Hanukkah, or New Year's Eve, there's a nail design for every holiday.
You can go with traditional colors and symbols, or you can think outside the box and create your own unique holiday nail art. The sky's the limit!
Final Thoughts
If there's anything we've learned over the years, nail designs will (and should) be around for a long while. Aside from your face and hair, your nails are one of several critical frontiers of self-expression in today's beauty trends.
Fortunately, nail brands, tricks, and tools are constantly pouring into the cosmetic market every month. So expect new and creative nail salon designs to make their way to a salon near you.
Share your thoughts and favorite nail art designs in the comments below – we'd love to hear from you!
More Related Resources: