Nail salon designs art can be a challenging task to tackle at home. But even with a proper set of colors and tools, a steady hand can easily convert the latest artistic nail design into an average piece or worse, a grade school art project. Fortunately, nail art nowadays have evolved into simple-yet-beautiful go-to designs that can be done in the salon. That's good if you're not a good nail artist.
From minimal and chic art designs to multi-color variations, there are several ways to request favorite designs in almost any salon. Such nail salon designs are the perfect anecdote to decaying makeshift colors or patterns you've resorted to putting on your nails way too many times.
Top Nail Salon Designs
If the warm or cold weather is getting into your head a little too much and want something to brighten your day, now is the good time to head to your nearest salon and switch your chipped nails for a worthwhile manicure.
If you're running out of nail design ideas this time around, you can request for these cool designs and embellishments:
The "Mirror, Mirror" Design
Women are going bananas over this shiny and silver design. While a majority of nail art possess drawings or some flashy design, this metallic appearance created by a "Mirror" nail polish brand, offers a simple yet dramatic look. All it takes is to start applying transparent polish base coat, and then add two reflective silver topcoat coats. It's that simple. Now you have a "silver medal" look. This is one of the best nail salon designs you should try.
The "Radiant Opal" Design
Looking back in 2015 when the "opal" hair trend was a thing, it's sensible enough to assume that opal polishes will make it big this year. Give it a go in a glitter-filled pale color or a shiny pearl-like top coat. Either way, your nails will have a "fit" appearance for any elegant event.
The "Nude-But-Better" Design
If you're into nude nail salon designs but still year for an even yet polished appearance, then consider yourself very luck. Nude nails are set to make a huge comeback.
The "Ballerina Nails" or "Coffin Nails" Design
If you're into cool nail designs, then this long shape paired with a flap tip could be something you like. Ballerina nails are considered to be wearable and stylish. This makes it ideal for initiating an edgy and bold appearance.
The "Oval Nails" Design
While stiletto and ballerina nails don't apply to every woman, there's good news though: oval nails will be taking the cake in 2016. This nail design has blown up in many fashion runways for the past several months so expect it to explode in the salon soon. Aside from its easy maintenance, you won't have to go through the pain of removing it later.
The "Deep Greens" Design
Deep forest greens as well as kale colors will be a hit this time around. Never hold back in wearing this shade beyond the winter season. This design is chic and looks exceptional regardless of the season.
The "Spray-On Nail Polish" Design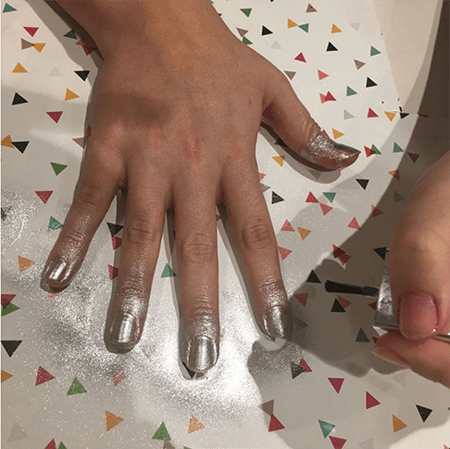 While this appears to be a cool concept in the initial going, does this nail design have the potential to make it big? Some fashion experts believe spray-on polish has generated enough buzz to make it to the masses on a wider scale. Its simplicity and different process of application will cause enough interest for women to give it a try.
The "Minimalist with a Twist" Design
Playing around negative space within your manicure is one cool approach to wearing different designs without going overboard. Minimalist nails are still a hit as the design adds more twist in the mix. Expect abstract and geometric patterns to be a big hit for nails this year.
If there's anything we've learned over the years, nail designs will (and should) be around for a long while. Aside from your face and hair, your nails are one of several critical frontiers of self-expression in today's beauty trends. Fortunately, nail brands, tricks, and tools are constantly pouring in the cosmetic market every month. So expect new and creative nail salon designs to make their way to a salon near you.
More Related Resources: