Is there anything that feels better than a pedicure especially on nice acrylic toenails?
Through the years, pedicures have come a long way. From art brushes to fancy designs on acrylic toenails, the pedicure possibilities are endless today.
You probably have heard of acrylic nails, but acrylic toenails?
Why not?
Acrylic toenails are the perfect way to spice up your pedicure or to even replace or fix a missing toenail, such as an injury, an accident, or even a toenail fungus. So, if you are embarrassed by the current condition of your feet, then why not kick your pedicure up a notch with acrylic toenails?
What You Need to Apply Acrylic Toenails
If you prefer to take the DIY approach to apply acrylic toenails, then be sure to have these items on hand.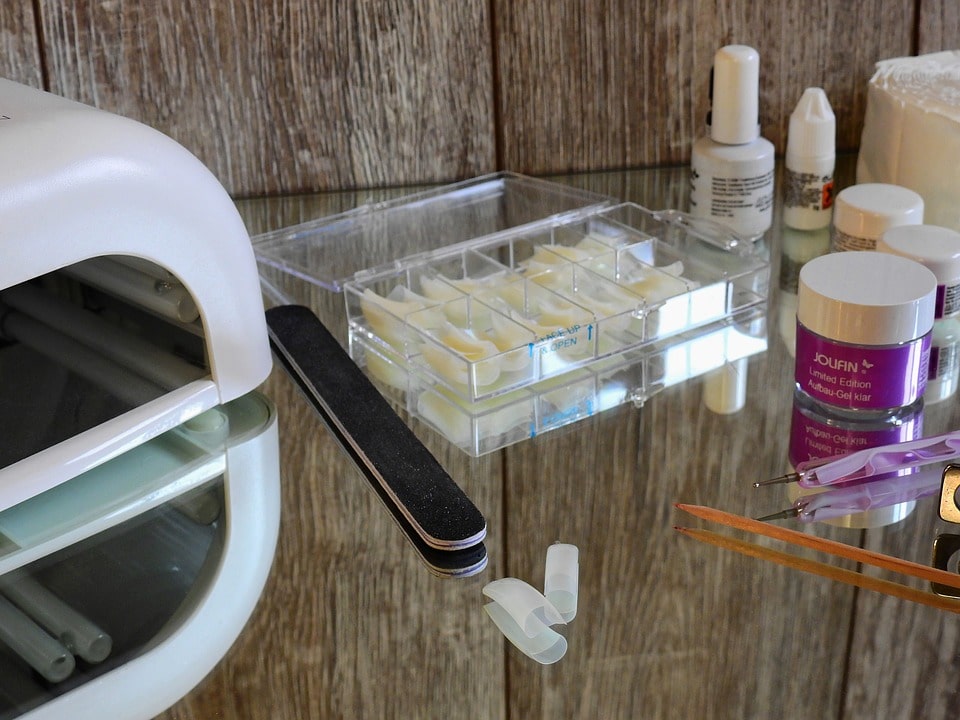 1. Acrylic Powder Kit – The first—and probably the most important—tool you need for your acrylic toenails is an acrylic powder kit. There are a number of different acrylic powder kits available, all with different items, glues, and products.
Tip: Be sure to select an acrylic powder kit that at least includes a liquid and powder.
2. Toenails Kit – If your acrylic powder kit doesn't come with them, you will also need a set of fake toenails.
Tip: Avoid purchasing cheap acrylic powder and toenails kits. Most cheap products will not last, do not adhere well or will even crack or break.
3. Nail Polish Remover – If your toes are currently painted, then you will need nail polish remover to remove the old polish before applying acrylic powder. The acrylic powder adheres best to naked toenail plates.
4. Nail Cleanser – Using a nail cleanser will thoroughly sanitize the toenails, preventing bacterial and fungal growth.
5. Antibacterial Hand Soap and Sanitizer – Be sure to wash your hands and feet before and after applying acrylic toenails to properly rid excess chemicals.
6. Nail Glue – You will need a bottle of nail glue to adhere the fake toenails to the toenail plate. A bottle of nail glue should come with your acrylic toenails kit, but if it does not, be sure that you purchase a bottle of nail glue that is the SAME brand as your acrylic kit.
Tip: Remember, different products from different brands don't always play nice with one another.
7. Cuticle Exfoliator – This handy tool is used to remove dried-out, rough cuticles.
8. Top Coat – Apply a top coat after you have finished applying acrylic toenails. This helps seal your acrylic toenails to ensure long-lasting protection and beauty.
9. Moisturizing Lotion – Using different chemicals and products, particularly nail polish remover can dry out the skin. Be sure to use a high-quality moisturizer on your hands and feet once you have finished your acrylic toenails.
10. Nail File Kit – When doing your nails or toenails, you can never have enough files. Files come in all different sizes, shapes, and grits, which are perfect for different toenail sizes and thicknesses.
Tip: Be sure that you also have a foot file in your nail file kit. A foot file is great for not only filing toenails but also helps remove calluses and dry areas on the foot, particularly the heel.
11. Toenail Clippers – Yes, there is a difference between fingernail clippers and toenail clippers. Toenail clippers are often stronger since toenails are often thicker than fingernails. Be sure to have a pair of toenail clippers on hand to trim toenails back, if needed.
12. Sable Brush – This is a wide-bristled, soft brush that is great for wiping away excess powder, chemicals, dust, and dried skin from your acrylic toenails before painting. This will help you to apply a smooth and clean finish.
13. Re-usable Nail Forms (Optional) – If you prefer to use nail forms instead of acrylic toenails, then be sure to have these on hand. Re-usable nail forms are great for gel, acrylic, and french manicures.
14. Cuticle Pusher – Cuticle pushers come in both steel and wood. Wooden cuticle pushers can be reused or thrown away after use. They can also be used for toenails as well as fingernails.
15. Cuticle Nippers – Although you should never cut your cuticles—even on your toes—sometimes hang nails happen, so be sure to use a pair of cuticle nippers to remove excess skin or hangnails. Steel nippers work the best!
16. Nail Machine – This handy tool helps buff out any uneven areas of the toenail after acrylic is applied and nails are filed. This also helps create a smooth finish, perfect for painting.
Most nail buffers come with four different surface areas for different uses. For example, the rougher side is great for removing bumps and scratches whereas the smoother side polishes and buffs.
17. Bond Aid – Yes, you can use nail glue as well, but bond aid is often applied to the toenail to ensure that the acrylic and fake toenail adheres well.
18. Toe Separators – If you have painted your own toenails before, then you probably already have toe separators on hand, or at least recognize them. These little foam tools help separate the toes for painting to avoid nail polish or chemicals from smudging or getting stuck between the toes.
19. Towelettes – Finally, using moist towelettes or wipes to clean up your work area is important. You should also clean your brushes after use to sanitize them from excess chemicals so they are clean and ready for next time!
20. UV or LED Lamp (Optional) – If you prefer to use gel nail polish on your acrylic toenails, then having a UV or LED lamp to help cure gel polish can help speed up the drying process, and will also help ensure a smooth, shiny, and clean appearance.
A Step-by-Step Guide on How to Apply Acrylic Toenails
Now that you have your toolkit ready to go, it's time to start applying acrylic toenails!
Follow these steps below to ensure the beautiful and easy application of acrylic toenails.
1. Cleanse – The first step is to thoroughly wash your hands and feet to ensure that you are working with a clean area.
Many DIY-ers often skip this step, but they shouldn't.
Simply washing your hands and feet can avoid contaminating your toenails and fingernails. It will help when applying adhesive for each acrylic toenail. Be sure to use your antibacterial hand soap during this step.
2. File – Once your hands and feet have been thoroughly rinsed, cleansed, and dried, now you can begin removing old nail polish (if any) and clipping and filing your toenails. 
Simply use your toenail files, cuticle clippers, toenail clippers, and nail polish remover during this step.
Be sure to remove any excess dried skin, hangnails, and calluses, and take the time to ensure that all of your toenails are filed to the same length.
Depending on the condition of the feet, this step may take longer than others. Be sure to be patient and ensure that toes are clean, smooth, and filed nicely before proceeding to the next step.
3. Soak – Once you have finished filing, soak your feet for a few minutes in warm water to soften the cuticles. You can soak your feet in a large bowl, a foot bath, or even the bathroom tub.
Then, using your cuticle pusher, you can push the toenail cuticles as far back as you can without causing damage or discomfort.
4. Fit and Size the Toenails – Once your feet are clean and filed, now it's time to open your toenails kit and find the toenails that best fit your feet. Every toenail size and shape is different, so be sure to choose the nail that fits each toe best.
Tip: If you are having trouble finding a nail that fits just right, then you may need to choose a wider nail and file down the edges until it fits properly.
Taking the time to size each toenail properly will keep your acrylic toenails from breaking.
5. Apply the Adhesive – Now open your acrylic powder kit. Use a small amount of acrylic adhesive to the tip of the toenail. Use a Q-tip or tissue to wipe away excess glue and chemicals. Place the acrylic nail on the toe and hold it down for at least 10 seconds until the glue sets.  
Tip: If you notice any air bubbles in the glue, then remove the nail and try again. The toenail will not adhere sufficiently if there are air bubbles. This means that there is air beneath the toenail, which means that it could pop off later.
6. File Again – After you have successfully glued your toenails and applied the acrylic power, now it's time to file again.
This time, focus on smoothing any rough edges and achieving your desired toenail length. Repeat this step for the rest of your toes.
Once you have finished filing, take your nail buffer and buff out your edges to achieve a smooth finish.
7. Paint Your Toenails! – Once you have properly filed and buffed out your nails, now it's time for the fun part: painting and decorating! Use the polish color of your choice. You can also use a gel
Enter your text polish, if you prefer. Don't forget to apply both a base coat and topcoat before and after painting!
8. Dry – Allow sufficient time for your newly painted acrylic toenails to dry. If you used gel toenails or gel polish, you can use a UV lamp or LED lamp to cure your polish.
If you don't have a lamp and have used regular polish, simply allow them to air dry. 
Tip: Be sure that your acrylic toenails are fully dry before going about your daily activities. Acrylic toenails should not feel sticky!
9. Moisturize – Once your toenails are completely dry, be sure to apply some moisturizing lotion to your hands and feet to ensure softness and to avoid skin dryness from the use of chemicals.
10. Clean Your Work Area –Now that you are completely finished and your acrylic toenails are dry, be sure to clean your work area by using moist towelettes or wipes, and be sure to dispose of any used waste acetone properly.
Beautiful and Long-Lasting Acrylic Toenails
So, there you have it: a complete step-by-step guide to applying acrylic toenails.
We hope that you found this article helpful in teaching you the basics of applying acrylic toenails, and even some new tips!
More Related Resources: